​Get to know our progress!
Get to know our progress!
At Ability Pharma we are very proud of all the progress we have done and we are continuously doing in the development of ABTL0812.
Today we would like to explain our evolution since the last financing round we had in 2016. Only 2 years have gone by but our progress has been enormous.
Our progress in 2016
In 2016 our last financing round was carried out and with this we achieved very important milestones such as the license agreement with
SciClone Pharmaceuticals
to develop, promote, market, distribute and sell ABTL0812 in China, as well as in Hong Kong, Macao, Taiwan and Vietnam.
In addition, the prestigious medical journal Clinical Cancer Research published the novel mechanism of action of our drug ABTL0812 in its publication.
Regarding the clinical development, in December 2016, the phase 1/2b clinical trial started at the Institut Vall d'Hebron d'Oncología (VHIO, Barcelona) and the Institut Català d'Oncología (ICO, Hospitalet, Badalona y Girona). The study included later the INCLIVA (Valencia), the Institut Gustave Roussy (Paris), the Centre Léon-Bérard (Lyon), the Institut Paoli-Calmettes (Marselle) and the Hospital Universitario Virgen del Rocío (Seville).
Our progress in 2017

Last year, was an important year for our company and our drug, achieving significant milestones.
The
US-FDA approved the phase 1/2a clinical trial
with ABTL0812, in patients with endometrial cancer or squamous non-small cell lung cancer, in combination with paclitaxel and carboplatin as first-line therapy line, which validated the ongoing clinical trial in Europe.
In August of that year, the EMA granted the O
DD (Orphan Drug Designation) to ABTL0812 for pancreatic cancer
, also previously granted by the FDA in November 2016.
In December 2017 we presented the amendment to the IND in the FDA to conduct an open phase 1/2b study to evaluate the efficacy and safety of ABTL0812 in combination with gemcitabine and nab-paclitaxel in patients with advanced metastatic pancreatic cancer as first-line therapy and as maintenance after chemotherapy.
Present and future
In January of 2018, only one month after its presentation,
the protocol for the phase 1/2 clinical trial with ABTL0812 in patients with pancreatic cancer was approved by the FDA.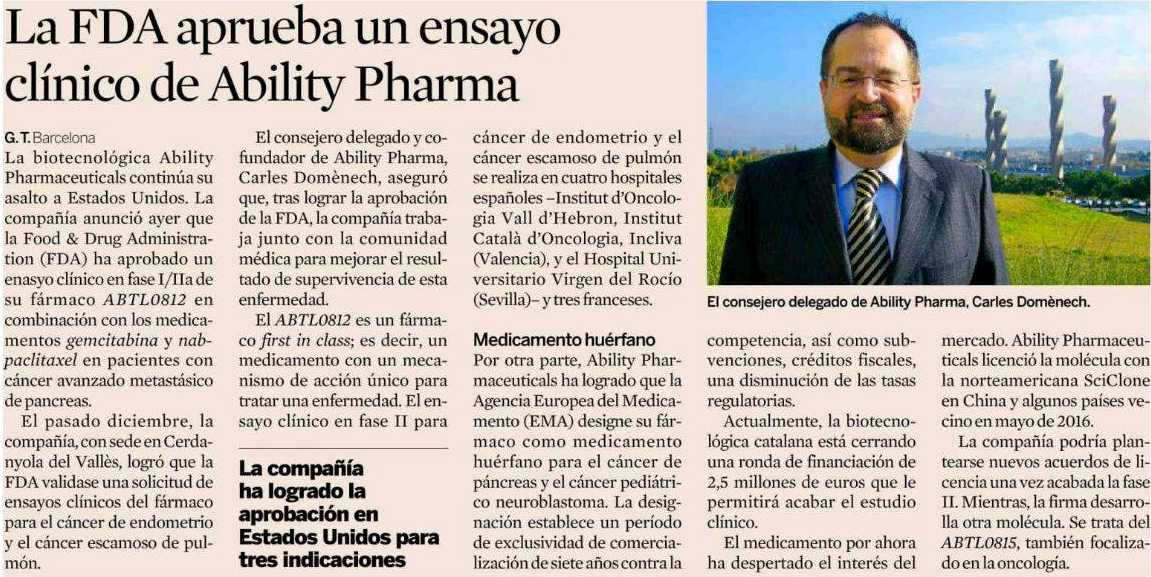 Font: Expansión (Catalunya) 20/02/2018
We are currently submerged in phase 2 clinical trial to treat endometrial cancer and lung cancer in 80 patients in centers of Spain and France.
Our future is ambitious, we want to stop cancer from being a deadly disease and turn it into a chronic illness. To do this, we have just started a new
fundraising campaign through a crowdfunding.
The primary objective with our crowdfunding campaign is to achieve 1 million euros in order to complete the phase 1/2 study with the development of additional biomarkers and the development of a new formulation. A successful outcome of the second trial would put us in a strong position to negotiate a licensing agreement to a big pharma or would allow an IPO in a stock market.
Would you like to know more about our project? Do not hesitate to send us an email to the following address: contact@abilitypharma.com
LATEST NEWS
09.06.2020
News
AbilityPharma publishes full characterization of mechanism of action of ABTL0812, a Phase II clinical inducer of cytotoxic autophagy in cancer cells, in Autophagy journal
+ info
25.03.2020
News
AbilityPharma awarded €5 million from the Horizon Europe EIC Accelerator Pilot Program to conduct a Phase 2b clinical trial with ABTL0812 in patients with advanced pancreatic cancer
+ info
12.09.2019
News
AbilityPharma rises € 3.5 million in a financing round to complete the current oncologic phase 2 clinical trial and license ABTL0812 to an international pharmaceutical company
+ info
31.05.2019
News
Ability Pharmaceuticals Announces the Presentation of the First Results of ABTL0812 as First Line in Patients with Endometrial or Lung Cancer at 2019 ASCO Annual Meeting
+ info
04.02.2019
News
Ability Pharmaceuticals Announces the Approval in China of a Clinical Study in Pancreatic Cancer with ABTL0812
+ info
30.01.2019
News
Ability Pharmaceuticals is attending the BIOMED EVENT® by INVEST SECURITIES and the Cholangiocarcinoma Foundation Annual Conference
+ info
05.12.2018
News
AbilityPharma ha superado el millón de euros en la ronda de crowdfunding que abrió el pasado mes de septiembre
+ info
07.11.2018
News
Ability Pharmaceuticals Announces FDA-Orphan Drug Designation for ABTL0812 in Biliary Tract Cancer
+ info
19.09.2018
News
Ability Pharmaceuticals anuncia la inclusión del primer paciente en el estudio clínico de la fase 2 de ABTL0812 en Francia
+ info