Get to know our product ABTL0812 and its mechanism of action
From AbilityPharma we are pleased to announce that next September 12 our
crowdfunding campaign #notwithoutyou will be officially opened
through the company Capital Cell, a pioneering online investment platform in Europe specialized in biotechnology and health.
Today we would like to explain in more detail our drug ABTL0812 and its mechanism of action.
ABTL0812, is a "first-in-class" anticancer compound, administered orally. It binds to the PPAR α/γ receptor, causing the inhibition of the PI3K/AKT/mTOR metabolic pathway, which is modified in almost 50% of human cancers, and causing reticular stress of the cancer cells. The combination of TRIB3-mediated inhibition of the PI3K/Akt/mTOR pathway and the induction of ER-Stress results in cancer cell death mediated by autophagy (autodigestion), giving it great potential in different types of cancer.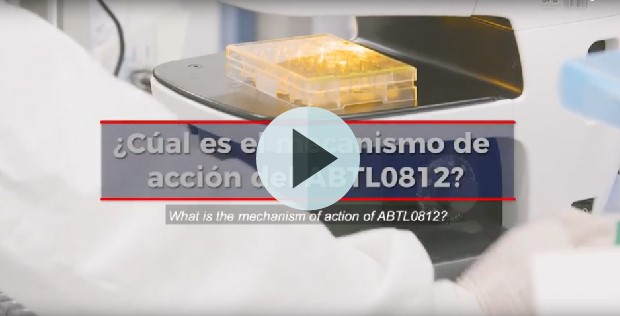 LINK:
https://youtu.be/QMYfLaSNyT0
At AbilityPharma we are convinced that we can make a difference in the fight against cancer since our drug so far has shown:
- To be efective administered as a single therapy (monotherapy)
- To increase the therapeutic effect (synergistic effect) of chemotherapy when the two treatments are combined,
without increasing their toxicity
- To be active in cells resistant to other therapies, active in tumor stem cells and has shown to inhibit the formation of metastasis
- Possible combinations with immunotherapy to enhance its effect
Currently, our drug is in
phase 2 clinical trials
in patients with endometrial and lung cancer, in Spain and France, in combination with chemotherapy. After chemotherapy the drug ABTL0812 will continue to be administered as a chronic treatment in order to
reduce the number of relapses to the disease
.
The
IND for clinical trials for pancreatic cancer is approved in the US
, we plan to continue investigating other oncological indications such as the pediatric cancer neuroblastoma, cholangiocarcinoma, resistant breast cancer, head and neck cancer or glioblastoma.
Want to know more about us?
On the occasion of our crowfunding campaign #notwithoutyou, we have prepared a summary guide with the most important information of our company and our project, we invite you to download the guide
here.
LATEST NEWS
09.06.2020
News
AbilityPharma publishes full characterization of mechanism of action of ABTL0812, a Phase II clinical inducer of cytotoxic autophagy in cancer cells, in Autophagy journal
+ info
25.03.2020
News
AbilityPharma awarded €5 million from the Horizon Europe EIC Accelerator Pilot Program to conduct a Phase 2b clinical trial with ABTL0812 in patients with advanced pancreatic cancer
+ info
12.09.2019
News
AbilityPharma rises € 3.5 million in a financing round to complete the current oncologic phase 2 clinical trial and license ABTL0812 to an international pharmaceutical company
+ info
31.05.2019
News
Ability Pharmaceuticals Announces the Presentation of the First Results of ABTL0812 as First Line in Patients with Endometrial or Lung Cancer at 2019 ASCO Annual Meeting
+ info
04.02.2019
News
Ability Pharmaceuticals Announces the Approval in China of a Clinical Study in Pancreatic Cancer with ABTL0812
+ info
30.01.2019
News
Ability Pharmaceuticals is attending the BIOMED EVENT® by INVEST SECURITIES and the Cholangiocarcinoma Foundation Annual Conference
+ info
05.12.2018
News
AbilityPharma ha superado el millón de euros en la ronda de crowdfunding que abrió el pasado mes de septiembre
+ info
07.11.2018
News
Ability Pharmaceuticals Announces FDA-Orphan Drug Designation for ABTL0812 in Biliary Tract Cancer
+ info
19.09.2018
News
Ability Pharmaceuticals anuncia la inclusión del primer paciente en el estudio clínico de la fase 2 de ABTL0812 en Francia
+ info